In today's post I thought of writing down my thoughts and advice through a real life example.
I want to share with you my experience and observations regarding a Corporate Social Responsibility (CSR) campaign currently running by METRO supermarkets in Cyprus. Bear with me for more details about the actual campaign.
This evening I went to the METRO supermarket of my neighborhood to do my usual grocery shopping. While waiting in the queue for the cash point, I noticed a banner standing opposite me with the slogan 'Better schools' as per below. The banner didn't say much thus I didn't really understand how METRO supermarkets actually help for this.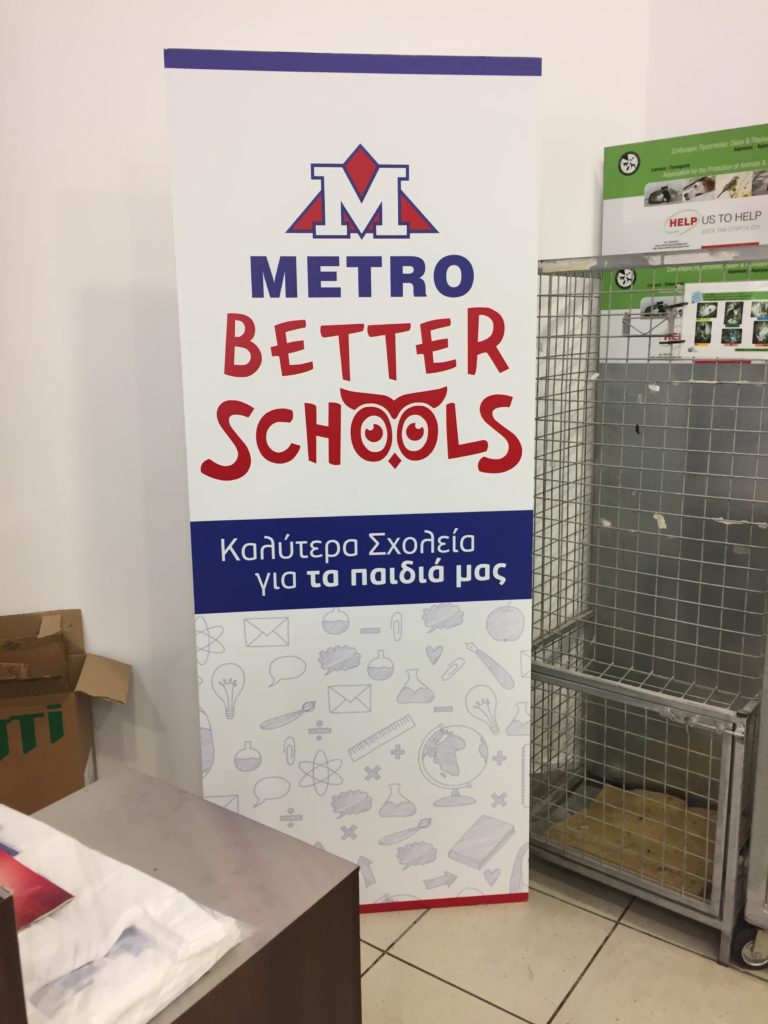 Half an hour later and after going home, a friend texted me on Viber with a link to 'METRO BETTER SCHOOLS' webpage. I immediately realized there was a link between the standing banner in the supermarket and this article. The link that my friend shared with me was taking me directly to a voting page including a list of primary schools with the sign of the heart next to them, standing for 'likes'. Again this didn't help me to understand a lot about what this is about.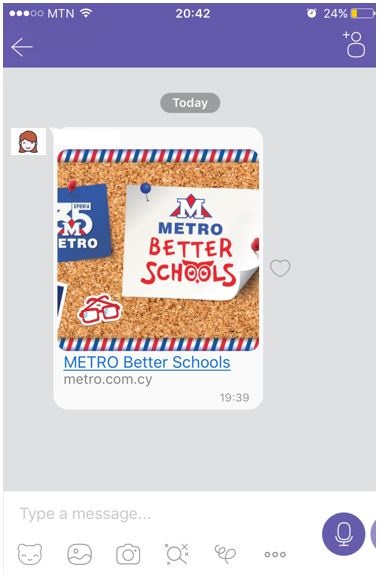 Before going to bed and while scrolling through my News Feed on Facebook, I saw that two of my friends have shared a post about this 'METRO voting'. This time, I landed in the correct page which finally included all information about this great CSR initiative.
The points I want to make about this story and METRO supermarkets' campaign are the follow:
Done very well:
It was great to see how within one day I came across this promotion of METRO supermarkets three times!! This simply means that people have been well engaged and willing to share the news and spread the word! This already makes the campaign a big success!
Could be done better:
There was a big missed opportunity to better inform me and other shoppers about this lovely CSR initiative while waiting in the queue for the till in the supermarket. The standing banner could include more information to spread awareness as well as a call to action encouraging people to learn more and vote i.e. a website address or a QR code.
The METRO employees working at the cashiers could inform clients about this and encourage them to vote.
The voting page could include a short explanatory sentence about what this is about, for those who land directly there.
The fact that I had to connect to my Facebook account in order to vote, held me back, due to my reluctance to share any personal data collected. Some food for thought!
You might find me too fussy about this campaign but my intention is not at all to criticize it rather than share with you some thoughts that crossed my mind.
Finally, to say a bit more about the actual campaign for which i have just spent a few minutes talking about, METRO supermarkets will financially support the enhancement of learning equipment for three regional primary schools. The voting is for the three schools to be chosen.
Conclusions
Through my experience, I can assure you that CSR initiatives are very much appreciated by people, thus audience engagement with marketing campaigns tends to be bigger.
On the other hand, you should always bear in mind, that for every promotional material you produce, either this is a banner, a social media post or a flyer, it is important to successfully communicate the message to your audience.
Additionally, take advantage of the direct contact you have with your clients every day to inform them about important things and encourage them to engage with your brand.
Disclaimer
The opinions expressed on this site are my own and do not in any way reflect the views of my current or any previous employers.